B9 2.0T DOWNPIPE FEATURES
Excellent horsepower gains with matching Stage 2 Tune

Cast sections ensure maximum flow and gorgeous fit and finish

True 76mm throughout without sizing down to OE Sizing at CAT

Direct bolt-on fitment with no modifications required

100% 304 stainless steel pipe lifetime construction  

Thick cast turbo flange ensures long gasket life and no leaks

High-flow 200 cell catalytic converter -full power with reduced pollution

High quality metal matrix catalyst

Tuned resonator keeps highway drone to a minimum

Fully lined extra tough flex section will never collapse internally

Complete kit includes everything needed to install
The IE B9 A4 & A5 Catted Downpipe is engineered to completely reduce turbocharger back pressure and increase turbo spool required for the calibrations of a stage 2 ECU tune. The combination of a performance downpipe and ECU tune together unlocks the full performance potential of your stock turbocharger and engine, delivering 97 horsepower over stock. Get ready to experience addictive power gains across the entire RPM range and an aggressive exhaust growl you are bound to love.
All IE exhaust systems are designed in-house using state of the art digital scanning for a perfect fit and manufactured from thick wall 304 stainless steel offering a lifetime of performance and fun.
IE engineers elected to use a resonator in the B9 A4 & A5 exhaust. The result was a much better sounding exhaust overall. The factory cat back has a very unpleasant rasp when used with a downpipe which does not have a resonator. As IE engineers are true enthusiasts as well, it was very important that the exhaust also sounded great. Check out the video to hear stock vs. IE sound clips.

*All sound clips are on a Stage 2 vehicle with IE cold air intake and intercooler installed. Only the downpipe was changed, no modifications were made to the factory installed catback.
HIGH-FLOW CATALYTIC CONVERTER (CAT)
IE's performance downpipe includes a high-flow 200 cell per inch metal matrix catalyst located as close to the turbo as possible. Metal matrix catalysts are higher performance because the matrix web is thinner, allowing higher flow in the same size. Our catalyst is also a very large diameter, allowing a large flow area and maximum power. By being placed close to the turbo, emissions and unwanted unpleasant smells are greatly reduced.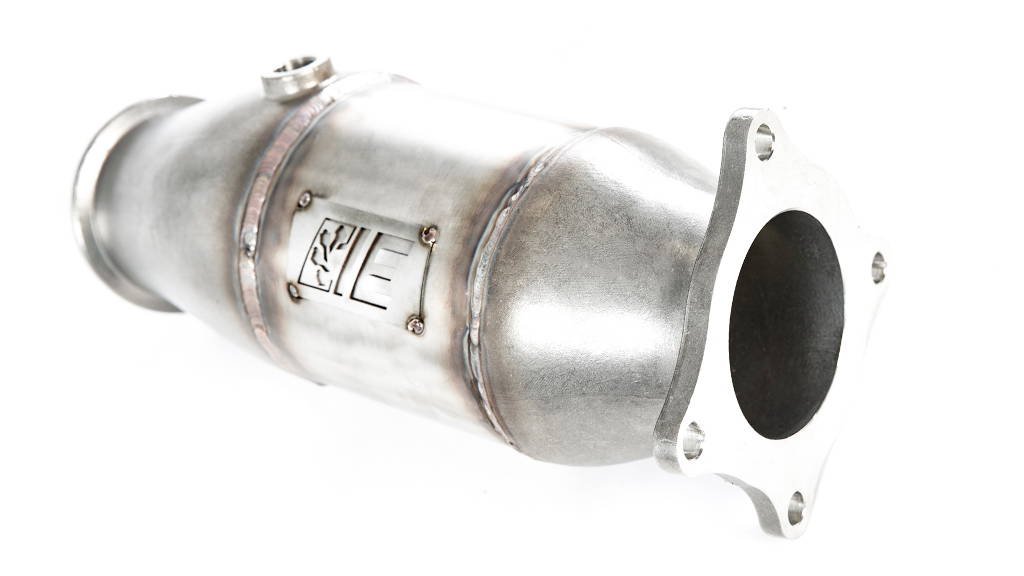 Typical aftermarket downpipes use bends or cuts to form the shape of the downpipe; this allows the use of larger piping, but sacrifices flow and often times fitment. Using specialized 3D scanners and software, IE engineers can design odd shapes and sizes to maximize flow and conform into tight spaces without any sacrifices. To accomplish these shapes, sections of the dowpipe are cast manufactured from the digital models. The result is an incredibly high-quality performance unit with a perfect fit and beautiful finish.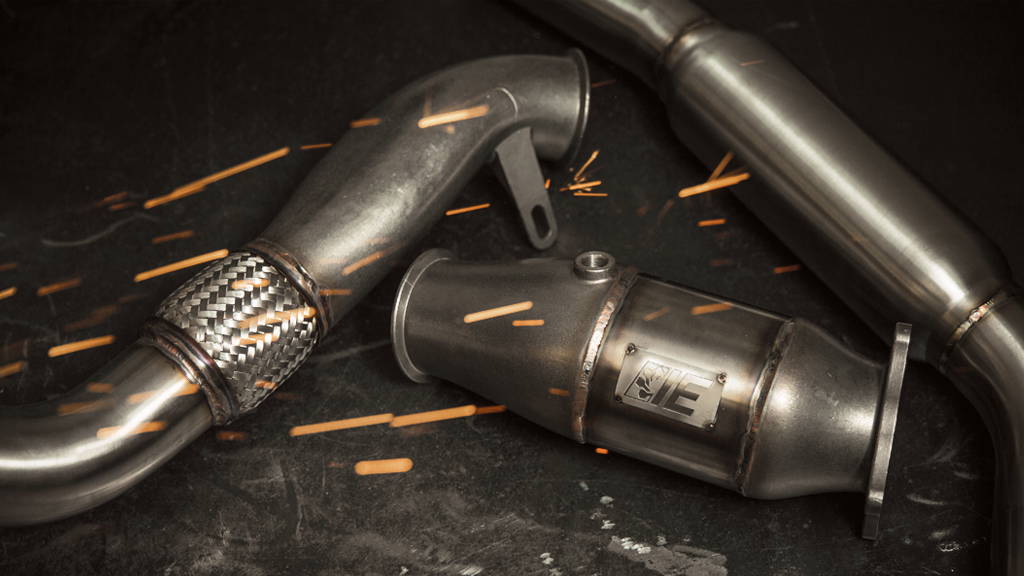 The IE downpipe replaces over 6 feet of restrictive factory exhaust tubing, all the way back to the OE "Cat-Back" rear section. Sturdy fabricated mounts and precise engineering result in a rattle free and long last replacement exhaust system. 3D scanning systems were employed to ensure perfect placement both in pre and post-production phases.

Installation should be completed by a professional and preferably on an auto lift. CLICK HERE to view and download the install guide.